What is Google reCAPTCHA?
Google reCAPTCHA is a tool developed by Google, that can help prevent spam on your website and ensure that your visitors' information is safe and secure. As the internet grows, so also is the problem of spam. Spam can take many forms, from unwanted email messages to comments on blog posts.
Attackers also try to infiltrate websites by spamming contact forms, comment forms, and other web forms. With Google reCAPTCHA however, you can protect your website from spam and abuse. Google reCAPTCHA is a free service that uses advanced technology to distinguish between humans and bots, allowing only legitimate visitors to submit information on your website. In this article, you will learn how to integrate Google reCAPTCHA on your WordPress website so that all forms like your login, register, forgot password, and comments form can be secure from spam.
How does it work?
When it comes to using Google reCAPTCHA, there are two types of this powerful tool to choose from: reCAPTCHA v2 and reCAPTCHA v3.
reCAPTCHA v2 is the traditional checkbox-style CAPTCHA that requires users to check a box to prove they are not a robot. This version is easy to use and implement, making it a great choice for most websites. It also includes an "I'm not a robot" challenge that asks users to identify images or solve puzzles to confirm their humanity. There is also an invisible version of the reCAPTCHA v2.
On the other hand, reCAPTCHA v3 is an invisible CAPTCHA that runs in the background of your website and automatically identifies and blocks suspicious traffic. This version is ideal for websites with high traffic volumes, as it doesn't require any user interaction and won't interrupt the user experience.
The choice of which version to use depends on your needs. In terms of user experience, some users might find the traditional "I'm not a robot" challenge very intrusive and might find the invisible option more convenient. The invisible reCAPTCHA can however raise concerns about privacy and data collection since it depends on analyzing user actions and patterns on the website to determine if they are bots or not.
It is therefore recommended that you balance your need for security with ease of use and engagement and also be cautious of privacy and data collection concerns that any version you choose might pose.
Why use Google reCAPTCHA?
There are many reasons to use Google reCAPTCHA on your website. Here are just a few:
Prevent spam: Google reCAPTCHA helps prevent spam from bots and other automated programs, which can save you time and effort by reducing the amount of spam that you have to deal with.
Protect your visitors: By preventing bots from submitting information on your website, Google reCAPTCHA helps ensure that your visitors' information stays safe and secure.
 Google reCAPTCHA is designed to be easy for humans to complete, which means that it won't interfere with the user experience on your website.
Free and easy to use: Google reCAPTCHA is free to use, and it's easy to set up on your website. You don't need any special technical knowledge to get started.
How to add Google reCAPTCHA to your website
Adding Google reCAPTCHA to your website is a straightforward process. Here are the steps:
Go to the Google reCAPTCHA website and click on 'v3 Admin Console' as shown in the image below. You will need a Google account for this.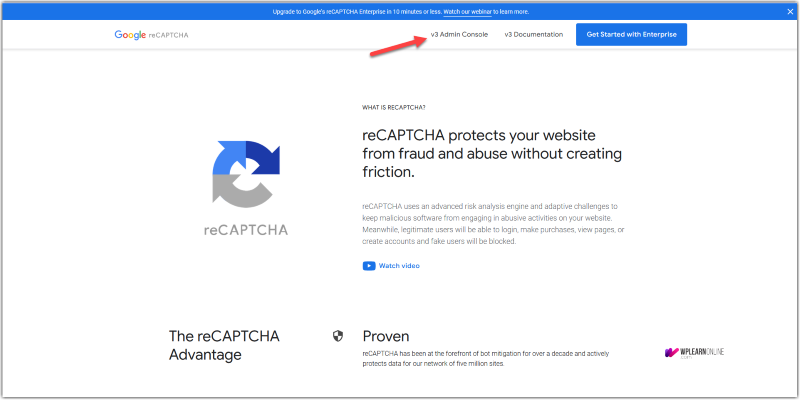 2. After signing up or logging in, you will be greeted with a dashboard from which you can add your site. Click on the plus icon as shown in the image below.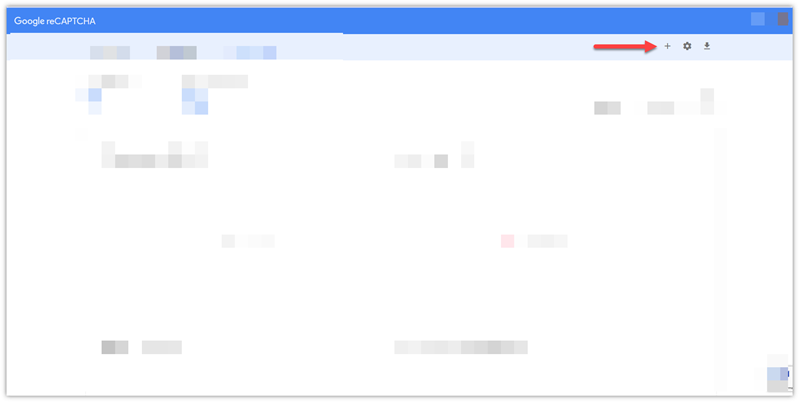 3. On the next screen, you will need to enter information about the type of reCaptcha you are interested in integrating into your website. Google offers several options, including the traditional "I'm not a robot" checkbox and the newer invisible reCAPTCHA. We suggest using the traditional "I'm not a robot" version because it is easier to implement, is a familiar process for most users, and it can help build trust and credibility with your website. You will also need to enter your domain name (without the protocol, that is, without "https://" or "http://". Lastly, you will need to accept the reCaptcha Terms of Service after which you can now click the submit button.
4. After clicking the submit button, you will be redirected to a page where you can copy your site key and your secret keys. With these keys, you can easily integrate reCaptcha into your website.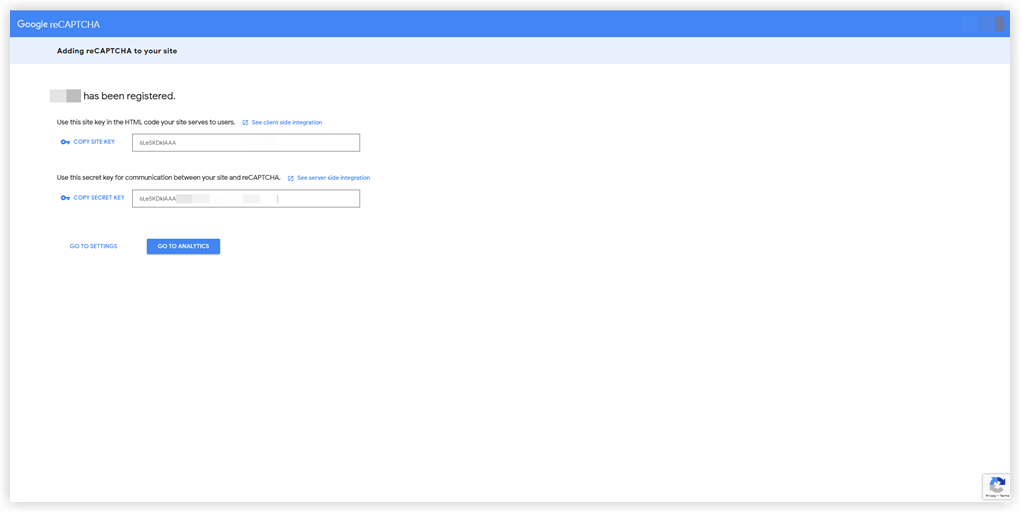 5. Next head over to your WordPress Dashboard, install and activate the plugin 'Advanced Google reCaptcha" By  WP Concern
6. Next, look for the Advanced Google reCAPTCHA menu on the left panel and click it. You will be redirected to a page to input your site key and your secret key. Copy and paste both keys to their respective input fields. Ensure you click on the appropriate version of the service you intend to integrate. The plugin also gives you options to enable the reCAPTCHA for login forms , register forms , lost password form and comment forms. It also has a couple of other options that you can enable as per your needs. When you are done enabling the options you want, click on the save changes button.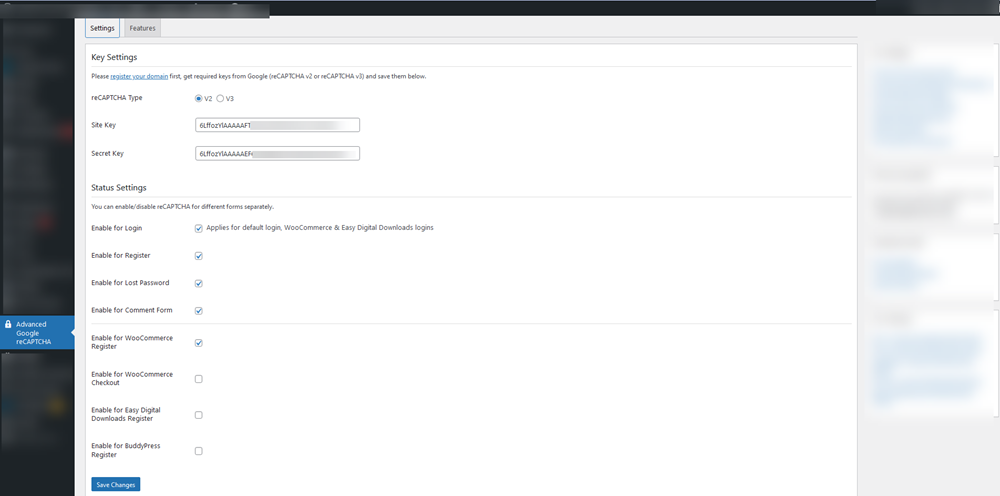 7. Once you are done with the setup page for the plugin, you can confirm that it works by visiting any page with a form on your website. For example, your admin login page or your contact page or your blog posts comment form.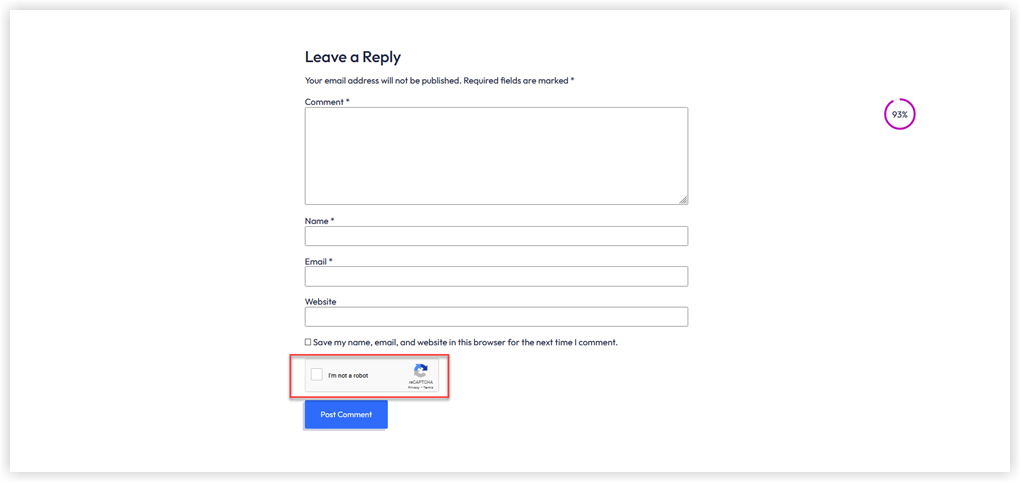 By following these steps, you can add Google reCAPTCHA to your website and enjoy the benefits of a spam-free website.
In conclusion, preventing spam on your website is crucial for maintaining its security and keeping your visitors' information safe. Google reCAPTCHA is a simple and effective tool for achieving this goal. By adding reCAPTCHA to your website, you can prevent spam and enjoy the many benefits of a secure and user-friendly website.