Introduction
The rise of e-commerce has fundamentally changed the way people shop. In a world where consumers increasingly turn to online shopping, having an e-commerce store is no longer a luxury, but a necessity. Whether you're a small business just starting or a large retailer looking to expand your reach, having an online store can help you reach a wider audience and increase your sales.
When it comes to setting up an online store, there are many e-commerce solutions available in the market and it can be challenging to know where to start. In this article, we'll focus on two of the most popular e-commerce solutions on the market today: Woocommerce and Shopify. Both offer powerful features and functionalities to help you create and manage your online store effectively. We'll explore both platforms and at the end of the article, you would be able to make an informed decision as to which is the right fit for your business.
Overview
Woocommerce and Shopify happen to be the biggest players in the e-commerce solutions industry. As of the writing of this article, Woocommerce has a 23% market share of the top 1 million as of 2023 sites while Shopify has  21%.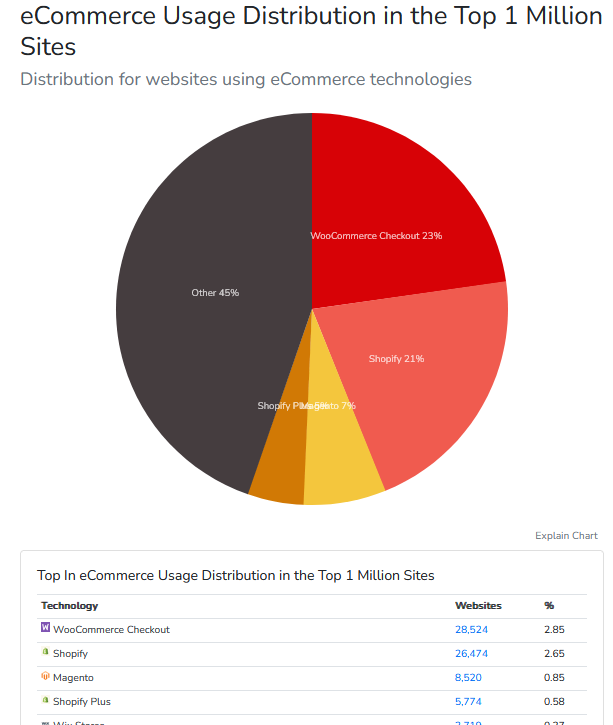 Before going into the review, let's take a quick look at what each platform offers.
Woocommerce: Overview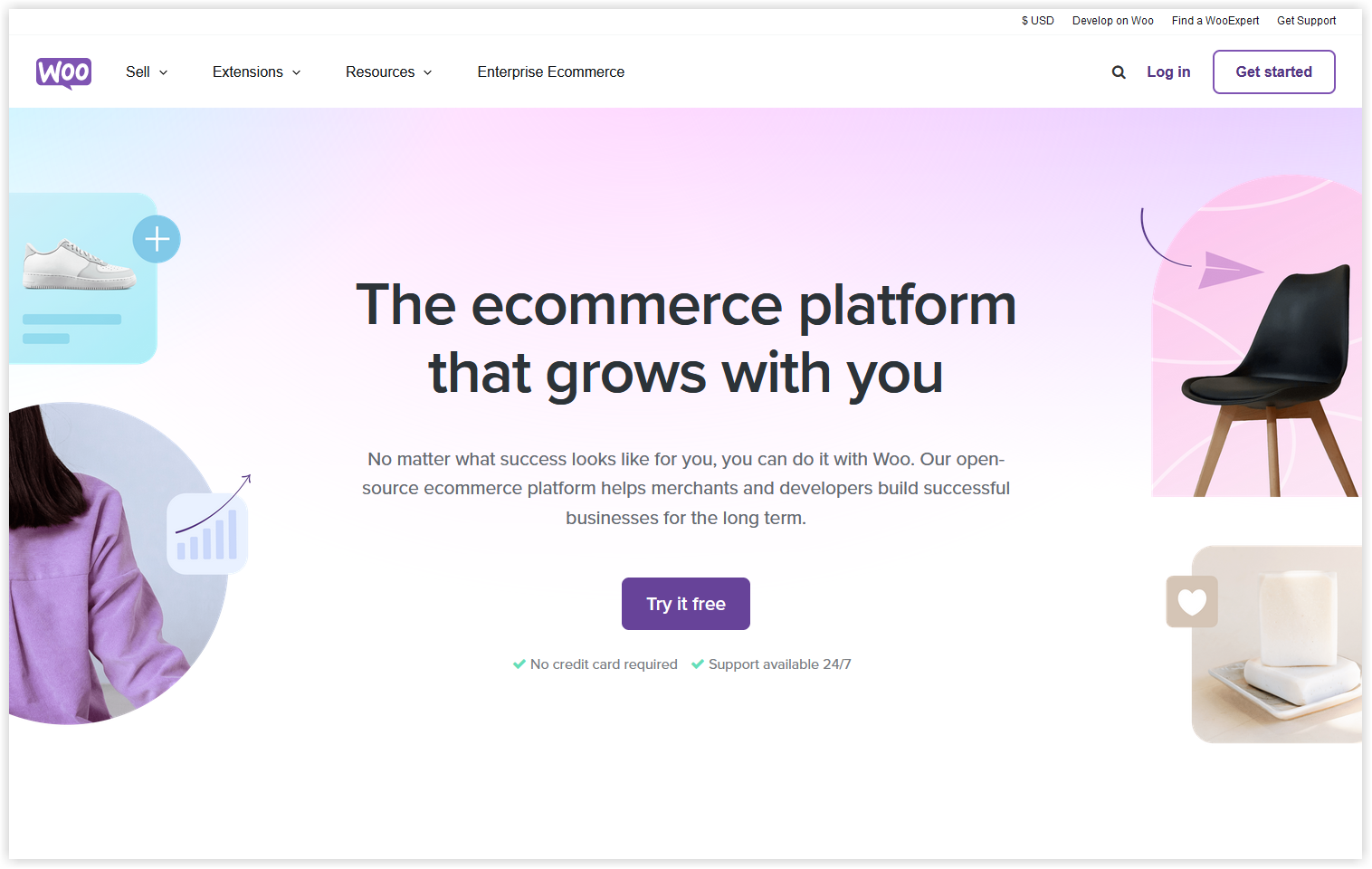 WooCommerce is a free, open-source plugin that adds e-commerce functionality to your existing WordPress website. WordPress is a popular content management system that powers over 43% of all websites on the internet. It is open-source, meaning that anyone can use, modify, and distribute the software. If you are new to WordPress, you can read our Introduction to WordPress article to know more about it.
With Woocommerce, you have all the necessary functionality to turn your website into an online store. One of the biggest advantages of WordPress with Woocommerce is its flexibility. You have full control over your website's design and functionality, and you can add or remove features as needed. WordPress is also highly customizable, with thousands of themes and plugins available to extend its capabilities.
Shopify: Overview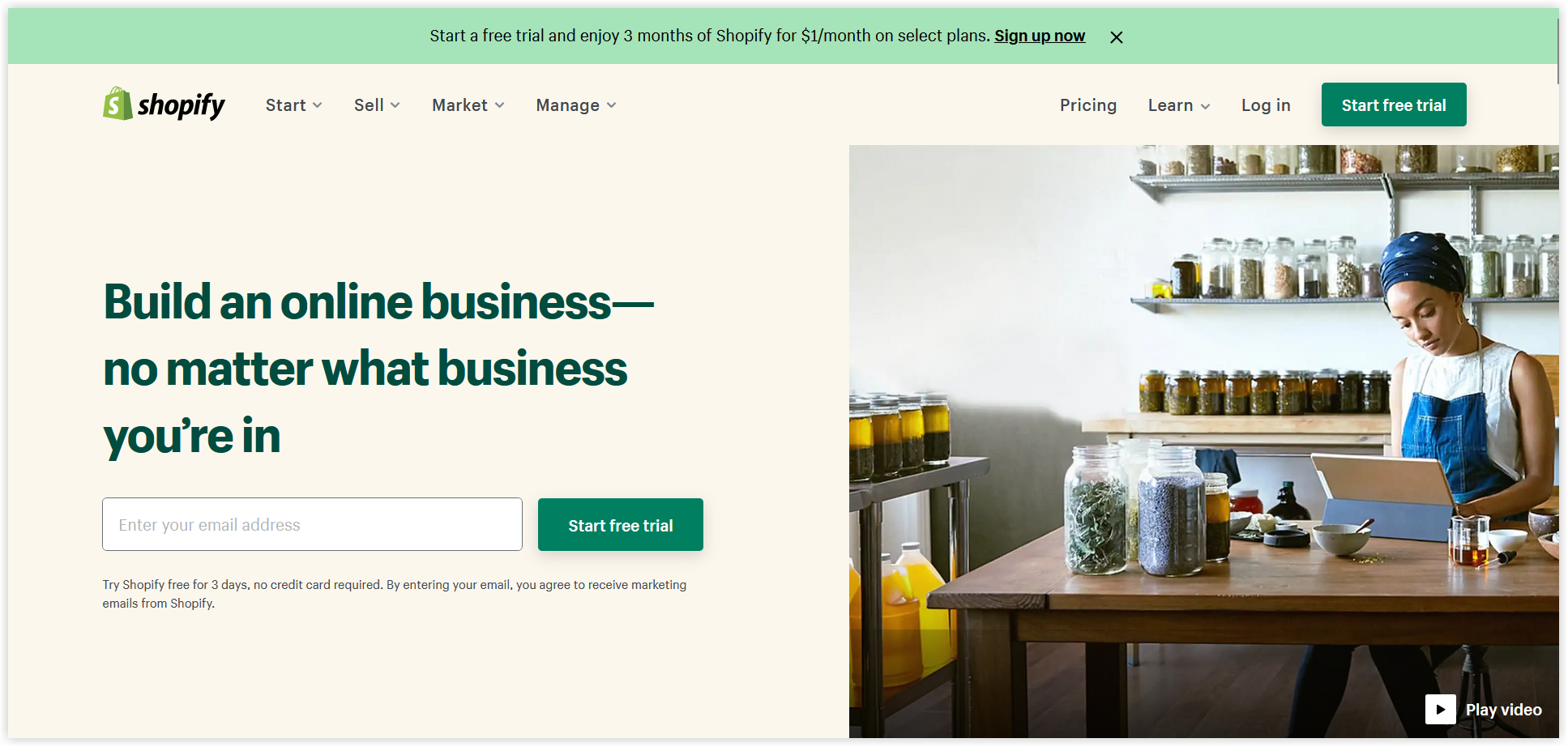 Shopify is a cloud-based e-commerce platform that lets you create an online store even without needing technical expertise. It offers a range of features like a drag-and-drop builder to build your site interface, payment processing, inventory management, and marketing tools. Shopify is known for its ease of use and user-friendly interface.
Shopify is a fully hosted solution, which means you don't need to worry about hosting, security, software updates, or maintenance. One of the advantages of Shopify is that it takes care of all the technical details, such as hosting, security, and software updates. This means you can focus on running your business instead of worrying about website maintenance.
Woocommerce Vs. Shopify; How do they Compare
When deciding on which e-commerce solution is right for you, there are a number of factors that you should consider. These factors are briefly explained below.
1. Cost: Cost should be at the heart of your decision when choosing a platform for your business. You sure ensure that you take into account, not just the initial setup costs, but also the running costs of each platform. It is important that you weigh the features and support offered by each platform against their respective costs to determine which is the best fit for your business.
2. Ownership: When choosing an e-commerce solution for your business, it is important to consider the kind of ownership that each platform gives you. Some platforms allow you to have full ownership over your e-commerce store, while some only give you partial ownership.
3. Ease of Use: Another critical factor to consider when selecting an e-commerce platform is how easy it is to use. You want a platform that does not require much technical expertise to navigate and perform basic site operations like uploading your products, managing product prices, managing orders, and so on.
4. Customization: Customization is another critical consideration when selecting an e-commerce platform. You should consider how flexible an e-commerce solution is before deciding it is best for your business
5. Security: An e-commerce website by its very nature, deals with a lot of sensitive data. It is therefore important that security should be at the forefront of your considerations for the right e-commerce solution.
6. Scalability: Every business owner loves to scale. Ensuring that you choose a very scalable platform and the initial stage of your business can save you a lot of headaches and cost down the line. Even if you intend to start small, ensure that the platform you choose can comfortably support your plans for expansion without needing to move to another platform.
7. Features and Integrations: When running an e-commerce store, it is usually the case that you would need to integrate 3rd party services into your store. Choosing a platform that makes this process possible and seamless is very important.
8. Customer Support: Depending on the technical expertise available to you, having a platform that provides constant support can be very invaluable.
Now let's take a look at how Woocommerce and Shopify compare in the light of the metrics above
1. Cost:
When it comes to costs, the initial setup costs for Woocommerce are considerably lower since Woocommerce itself is free to use and you will in most cases, only incur hosting and domain costs at the initial stage (note that you will need to continually pay for the renewal of your hosting and domain according to the billing period you have chosen). The cost of hosting and domain can vary from one hosting provider to another. As for running costs, WordPress, which is the foundation of Woocommerce, provides a lot of free plugins and themes that can be used to build your e-commerce store. However, in some cases, you might also need to pay for premium versions of plugins for more robust functionalities for your store.
On the other Shopify, being a managed e-commerce solution offers a subscription-based service with options for monthly or yearly payments. At the time of this writing this article, Shopify offers three plans from basic to advanced ranging from $32 to $399 per month billed monthly or $24 to $299 per month billed yearly. You can visit the Shopify website for current pricing.
It is also important to note that because Shopify is a managed solution, you do not need to separately purchase a hosting plan as your website is hosted by Shopify, however, if you wanted to use a custom domain, you would need to either purchase it with Shopify or with a 3rd party domain registrar. The cost of purchasing a domain from Shopify depends on the domain name extension with .com domain names costing $15. In Shopify, you also have access to "apps" that work in a similar fashion to "plugins" in WordPress. These apps in most cases also will require payment to use them.
Lastly, it is important to factor in the fact that Shopify also charges a commission on every sale you make. This is not the case with Woocommerce
2. Ownership:
Woocommerce is open-source software that is self-hosted. What this means is that you have complete control over all aspects of your e-commerce website such as design, domain, hosting, and even payment providers to use. With Woocommerce you have complete ownership of your e-commerce store. With Shopify however, you don't have complete ownership of your website and you don't have total control over your website. This is usually the case with managed solutions which Shopify is one. It is therefore the case that you are limited to the features provided by Shopify and also by Shopify's terms of service. Therefore, though you have control over your content and design, Shopify owns and controls the platform.
Additionally, since Shopify handles your hosting, you cannot completely move your website from Shopify to another platform. However, you might be able to export your product data from Shopify.
3. Ease of Use:
Both platforms pride themselves in being very easy to use and beginner-friendly, however, ease of use is an area Shopify outshines Woocommerce. Shopify is specifically tailored for e-commerce and setting up an e-commerce store is a very straightforward process. With Woocommerce however, there is a need to first set up a WordPress website before installing Woocommerce on that WordPress Installation. This process can be particularly daunting to beginners who don't have technical expertise in WordPress and who just want to set up an e-commerce store as easily as possible. It is also important to take into consideration the fact that using Woocommerce also requires that hosting and domain be purchased and configured. This is usually another hassle as users with less technical expertise can find it difficult to navigate hosting environments.
Asides from the comparison of the setup process for both platforms, Shopify stores are usually easy to manage as most of the technical aspects of running an e-commerce store are taken care of by Shopify. Therefore all you need to do on a Shopify store after setup is focus on building your website and making sales. With Woocommerce however, because it is self-hosted, it requires a more hands-on approach to keep your website up and running. You have to ensure that other aspects of your website such as speed, and security, are well taken care of.
Both Shopify and Woocommerce provide very intuitive ways to add products to your store and manage your inventory and both are easy to use and user-friendly in that regard.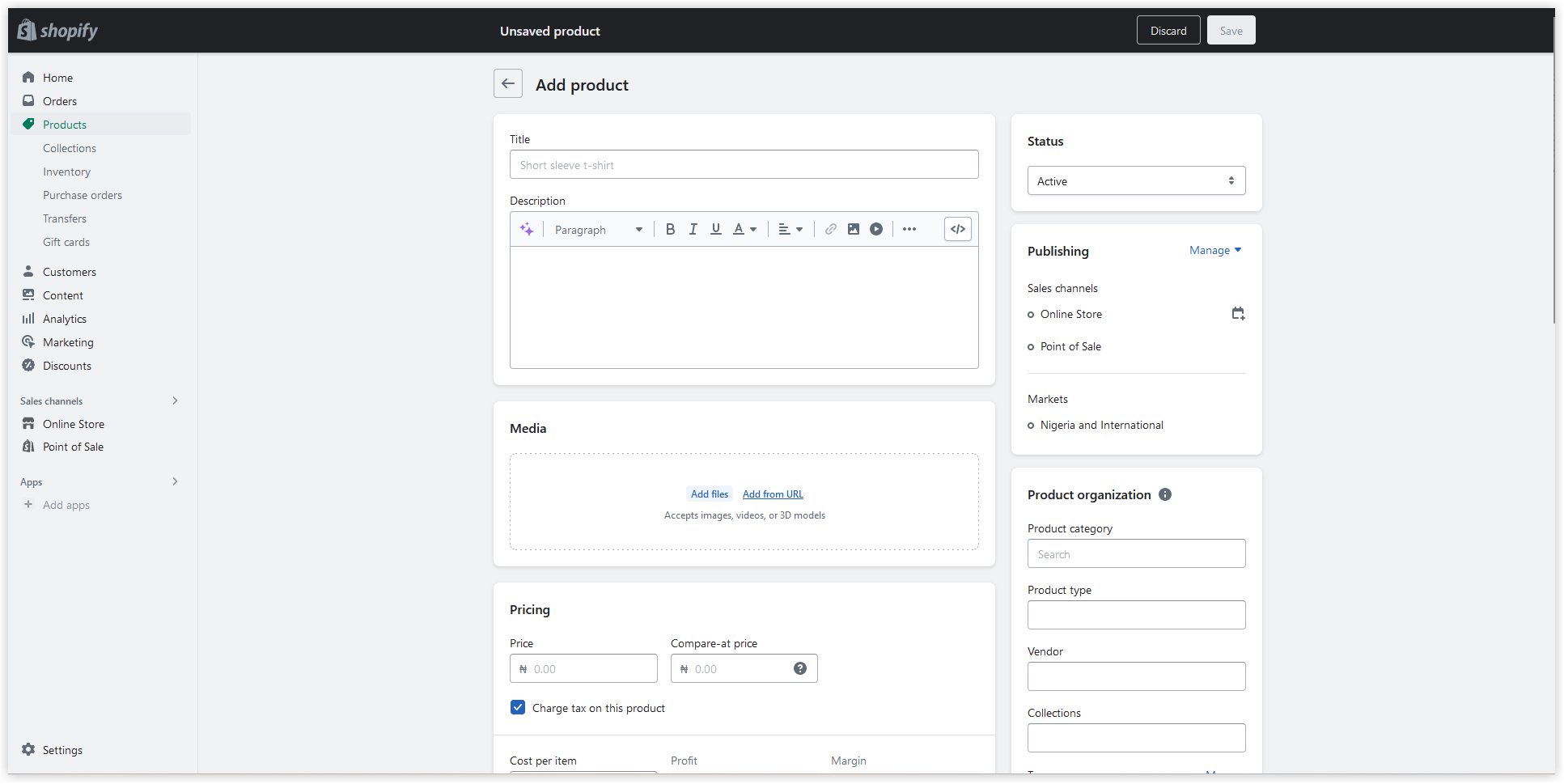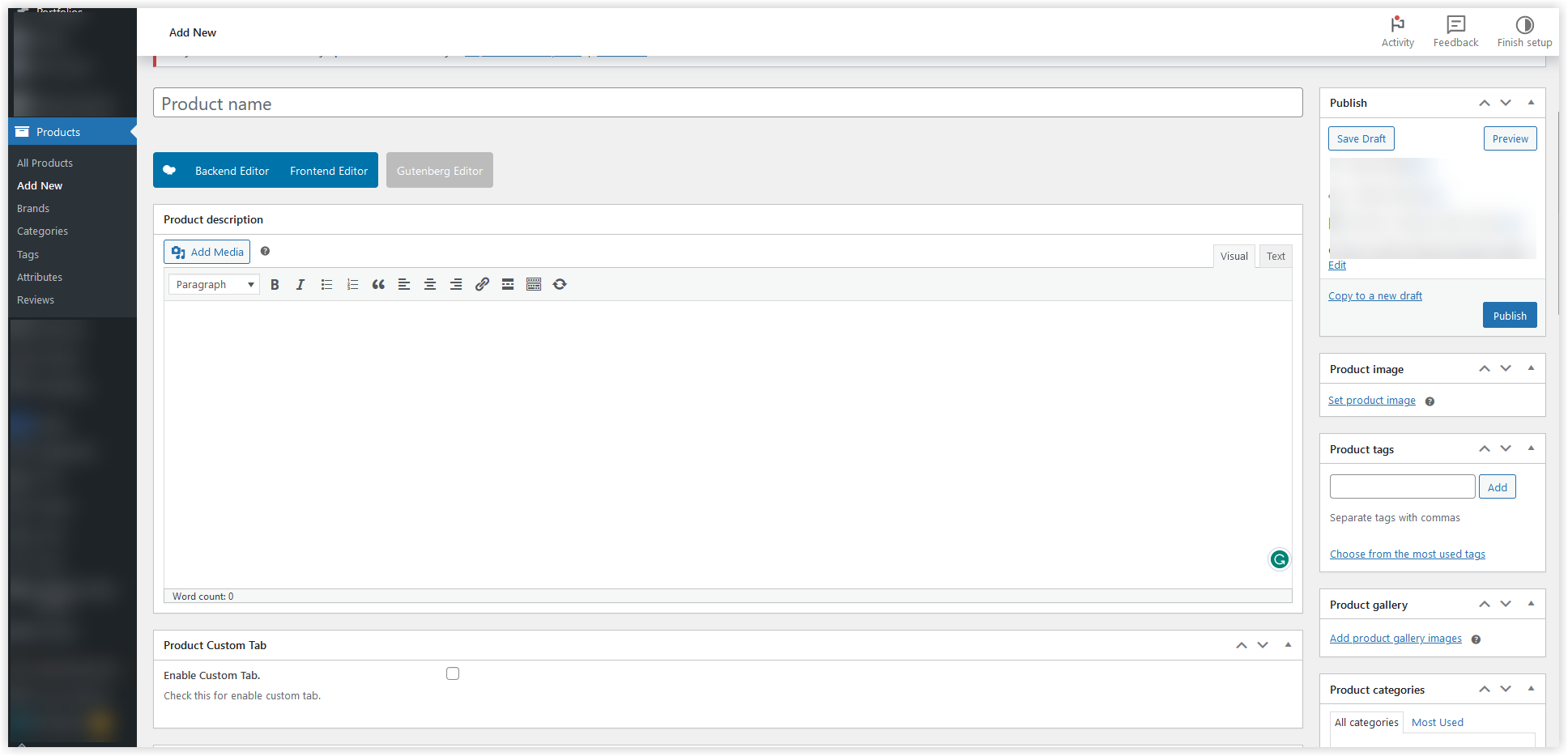 4. Customization
Once again, Woocommerce's open-source nature offers its advantage here as users can capitalize on its flexibility to build whatever they want. Asides from being able to choose from and install themes and plugins to enhance your site's look and feel as well as functionality, you are also able to build custom themes and plugins that suit your specific business needs for use with Woocommerce. Shopify on the other hand, has limitations to how much you can customize and alter it. While you might be able to alter the design of your site, you are still limited in terms of what you can do with code.
5. Security
When it comes to security, both Woocommerce and Shopify offer strong security features, including SSL encryption and PCI compliance. However, Shopify has a more robust security system than WooCommerce, since it is a hosted platform. Having a Shopify store means that a whole lot of the heavy lifting in site maintenance, including security is handled for you. However with Woocommerce, in most cases, you need to be responsible for your own security by installing security plugins to keep your site secure. This can be particularly overwhelming for inexperienced users.
It is important to mention that, whilst you are responsible for your website security in a Woocommerce store, the burden of this responsibility might be shifted to the hosting provider as it is the case that there are hosting providers who provide managed WordPress hosting services where you basically don't have to worry about security or website maintenance for your WordPress Website.
That being said, when it comes to security, a closed system like Shopify, is usually a better idea than an open-source system like WordPress because you need to have security plugins running on your WordPress website to make it secure, and you don't necessarily have to do this with Shopify. Therefore Shopify takes the win for this round.
6. Scalability
When it comes to scalability, both Shopify and Woocommerce can pull their weights but Shopify might have an edge because it is a managed solution. Shopify's hosting infrastructure is designed to handle large volumes of traffic, which means that your website will remain stable even during peak traffic periods. However, whether or not your Woocommerce store will be scalable or be able to handle a large volume of traffic largely depends on your hosting provider and not the Woocommerce software itself. A good hosting provider may be able to guarantee that your website is up and functioning efficiently. It is however important to note the issue of cost that might arise here as the higher your hosting service, the higher the cost you are likely to incur for your Woocommerce store. Lastly, with Woocommerce, you may also need to optimize your online store's performance regularly to ensure that it remains fast and responsive as your business grows.
7. Features and Integrations
Both WooCommerce and Shopify offer a wide range of features and integrations to help you customize and enhance your online store's functionality. WooCommerce through WordPress, offers thousands of plugins and themes that you can use to add features such as product variations, shipping options, payment gateways, and more. WooCommerce also offers seamless integrations with popular apps and services, including Mailchimp, Google Analytics, Klaviyo, and Facebook.
Shopify also offers a range of features and integrations, including built-in marketing tools, abandoned cart recovery, product reviews, and more. Shopify also offers a wide range of apps that you can use to add additional functionality to your online store but in most cases, these apps are paid for on a subscription basis. When it comes to features and integrations, WordPress offers are lot more and provides even more free plugins, and since you are not restricted or limited when it comes to services to integrate, Woocommerce trumps Shopify for this round.
8. Customer Support
Customer support is an essential consideration when selecting an e-commerce platform since you want to choose a platform that offers responsive and reliable support when you encounter any issues. WooCommerce offers community-based support through its forums and documentation. However, if you need more personalized support, you may need to hire a developer or seek help from a third-party provider.
Shopify, on the other hand, offers 24/7 customer support through phone, email, and live chat. Shopify's support team is highly responsive and can help you with any issues you encounter while using the platform. Shopify also offers a comprehensive knowledge base and community forums where you can seek help from other users.
Conclusion
In conclusion, both Woocommerce and Shopify have proven to be wonderful choices for e-commerce stores as evidenced by their market share in the industry. Therefore the ultimate choice as to which suits your business will depend on you and your business needs. However, you want to be sure to take into account all the factors addressed above before making a decision.
Shopify is the right choice for you if you have the budget, need your store quickly and you don't have much technical expertise when it comes to setting up a website and you want to take a hands-off approach to running your store. With Shopify, you can focus on selling your products while Shopify handles all of the site maintenance. While it has some trade-offs such as lack of ownership over your store, and lack of flexibility, it can get you running and making sales in no time. Plus you can also count on very reliable customer service.
Woocommerce on the other hand is the choice for you if you will lack to retain ownership of your site and maintain total control of every aspect of your website including sales of products and general website maintenance. While it can have a steep learning curve and also take longer to set up, it's customizability ensures that you can build just about the right e-commerce store of your dreams!